3/10 (Tue) Leave Room in the Heart, Leave Rocks at Headquarters@MatchaMatchaDonDon2020.03.14
Evening.
I'm MatchaMatchaDonDon.
For us who have been here for a period of 120~150 days, its easy to think "Ahh, there are sometimes days like this within the long season.", but for the guests who came here today, it became a cold and harsh, rainy day.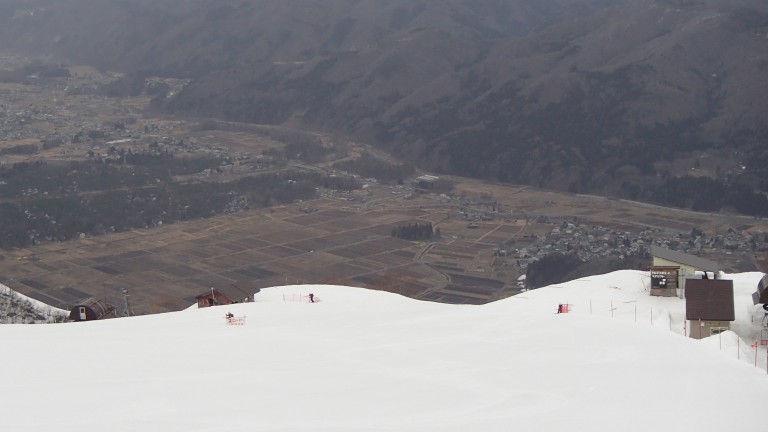 The rain that had been falling since morning, smelled a bit dusty like wet asphalt.
Driving to work this morning, the rain was lightly falling on the wind screen, which made my snow-condition wind screen wipers creak in protest.
When I arrived at the patrol room, around half of the gathered patrol members had a gloomy expression on their faces (as to be expected).
And as if to match the gloomy expressions of my squad members, when we went up to the Alps Daira for morning prep, it was raining.
It was the same preparation job as usual, but this time without any motivation.
Nevertheless, I was still humming despite the bad weather. In fact, I changed my ski boots this year. The new ones never get wet and I'm always surprised to find my socks still dry at the end of the day. So even today's rain can't take a toll on my mood.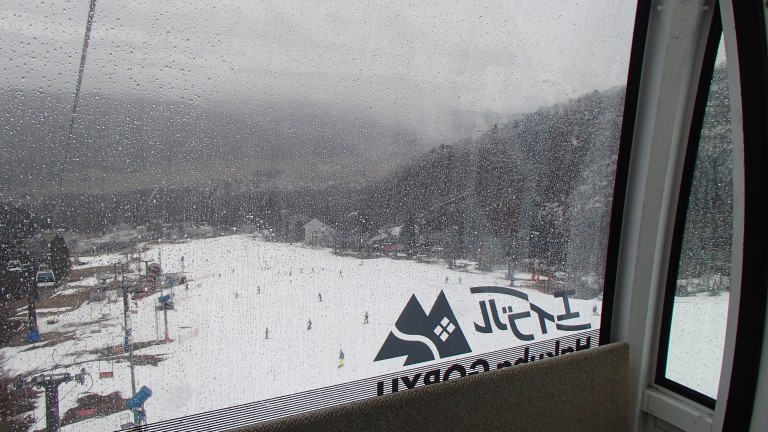 Today, it kept going back and forth between strong and light rain, both on top and at the bottom of the mountain.
The rain was pouring down on the gondola accompanied by a strong wind. It felt agitated.
"It would have been perfect, if not for my sleeves getting all wet.", I grumpily whispered as I stared through the gondola's window.
On top of starting to feel hungry, I happened to say that I hated that rain. "Oh, there is beauty in that rain. I kinda like it", Saba answered me.
"How enthusiastic of you, Saba. Tell me the secret to your happiness.", was I thinking as the scenery was changing though the window.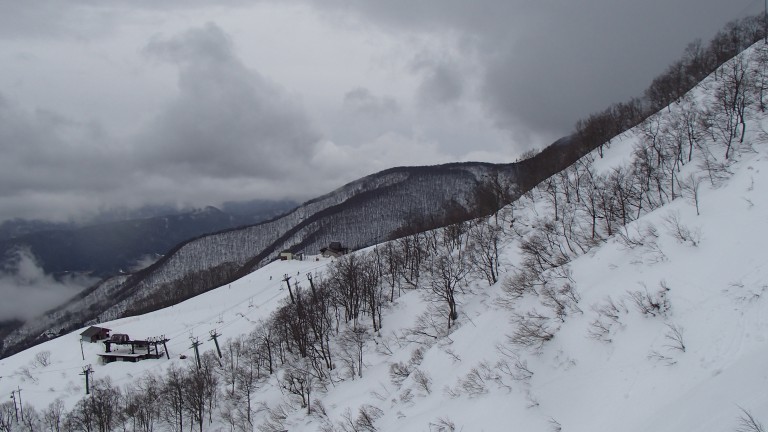 As the gondola approached the top, this is what I saw..
Two antelopes!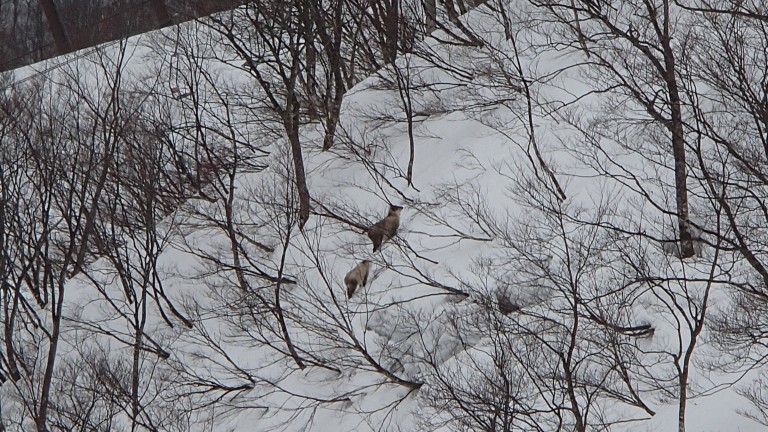 Antelopes! Antelopes!
They seemed to be on an expedition, avoiding high avalanche risk zones.
"Pay attention to the uphill!", I screamed to them as the gondola arrived.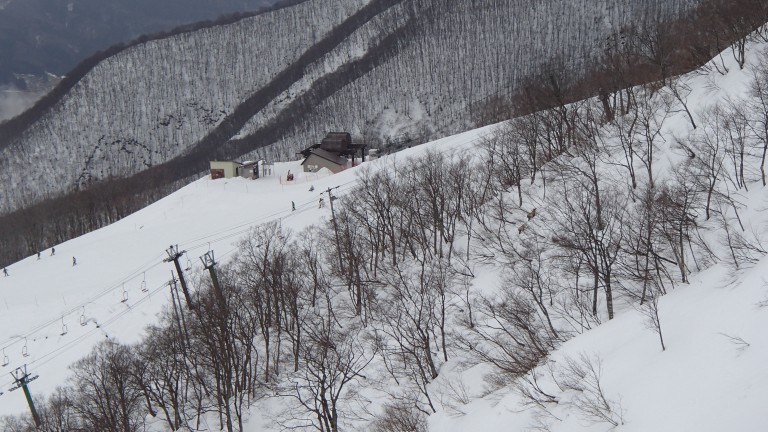 They even tread around here.
We could see them going around this place for the past few days.
They like walking up steep slopes. Reminds me of Mr. Something-Imo.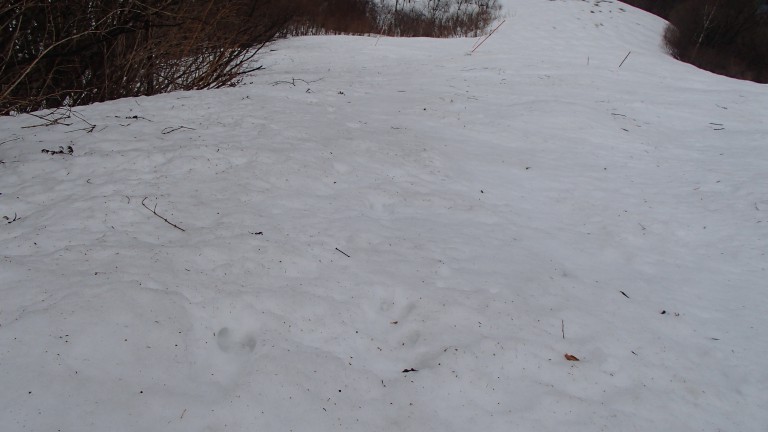 They have left some  footprints.
It seems that they often choose to walk around at night or the early hours of the morning.
According to the local land lease law, we are being lent part of the mountain by them for this time of year; so as the landowners, perhaps they came to check out the slope conditions?
Maybe they want the day where they get the whole mountain back for themselves to grow closer?
And it also seems that they know the appropriate method for walking along the side of the slopes.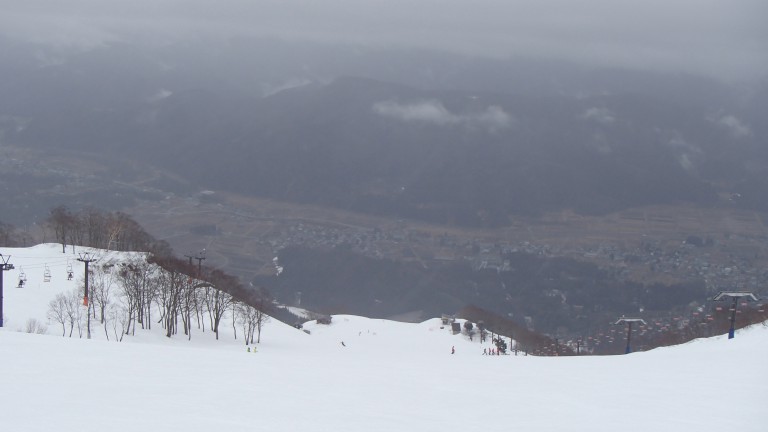 For those who enjoy skiing in the rain.
Today is a day reserved for you!
The slopes aren't rough, and the prior uneven surfaces of the slope have been cleaned and evened out for easier skiing.
Being drilled by the rain when waiting alone on the chairlifts is good for training mental fortitude.
When I see fellow colleagues working hard in the rain, it makes me want to cheer them on!
I can hear Kanreki-san enthusiastically exclaiming "This is nothing!" multiple times throughout the day.
However I of course can't help but consider what it would be like if this was actually snow.
And I really have to admit that being drilled by the rain when waiting alone on the chairlifts is good for training mental fortitude.
But the thing that MatchaMatchaDonDon enjoys the most on a rainy day is..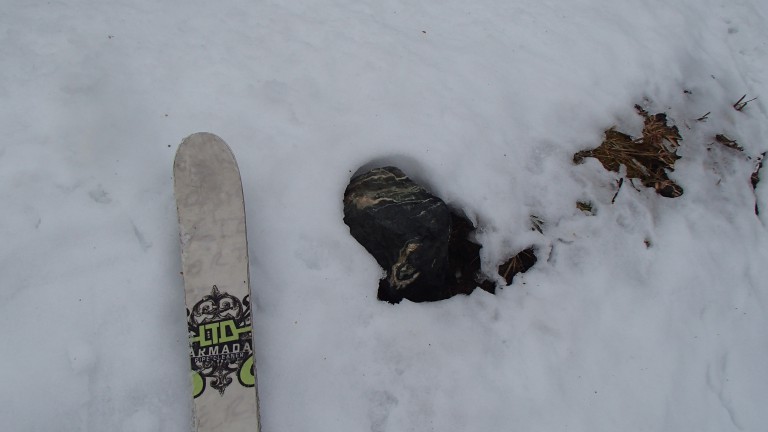 Thats right! Of course its searching for rocks!
Because they are continuously appearing lately!
So much treasure to be found~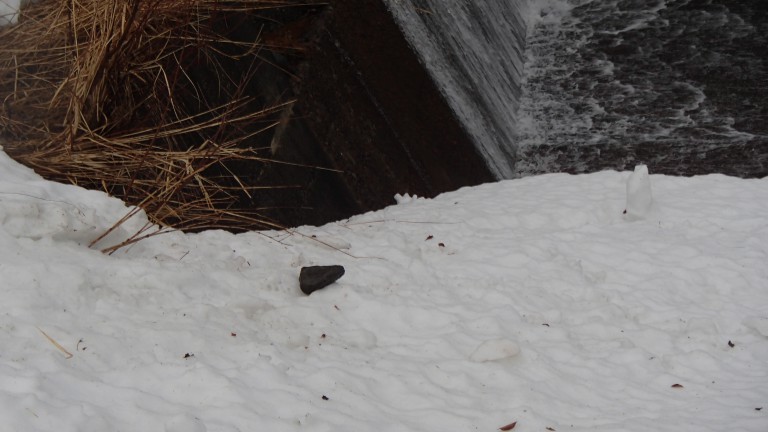 Over here; oh! and over there too! See?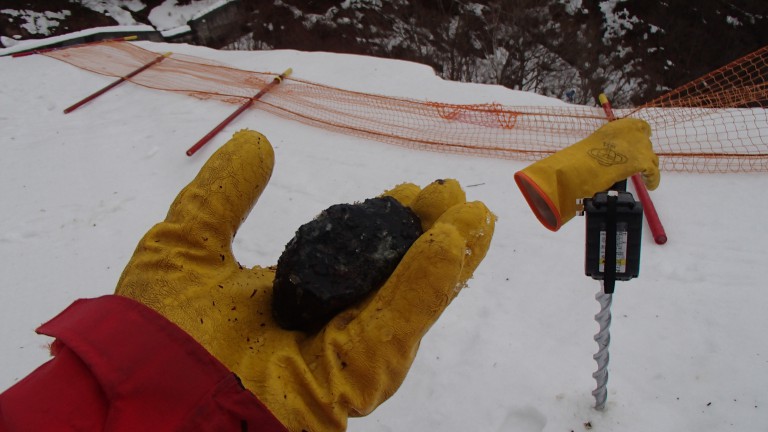 I found a pretty good one during the morning prep session.
I happened to make a coincidental discovery while taking down the nets.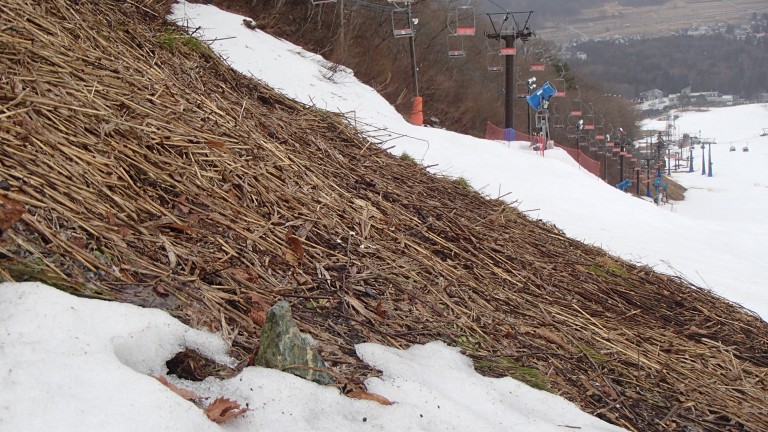 That would be a fine rock to add to the collection! So much so that I'd want to bring it home, (though I'd get in trouble with headquarters again), so I held back my impulsive desires and threw it into a safe ditch.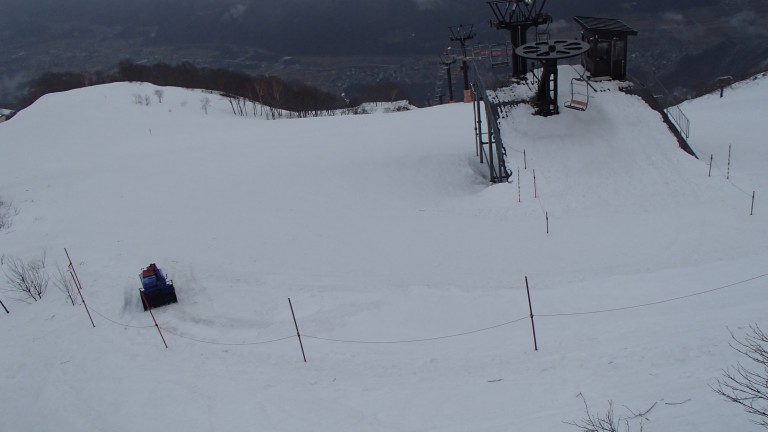 Well, all things considered, today was indeed a fun day.
The end of the Alps 3rd Chairlift is looking in dire straits, but the lift operators are able to take snow from the nearby hill, so there is no cause for concern.
As we can't really predict when the end of the season will come, please do consider heading over to Hakuba while the snow is still fresh!
As for tomorrow's Goryu, today's rain will turn into snow tonight, and by the morn there should be some new snow piled up on the mountain.
There is a chance that the weather might constantly shift throughout the day tomorrow, but we are getting snow signs for now.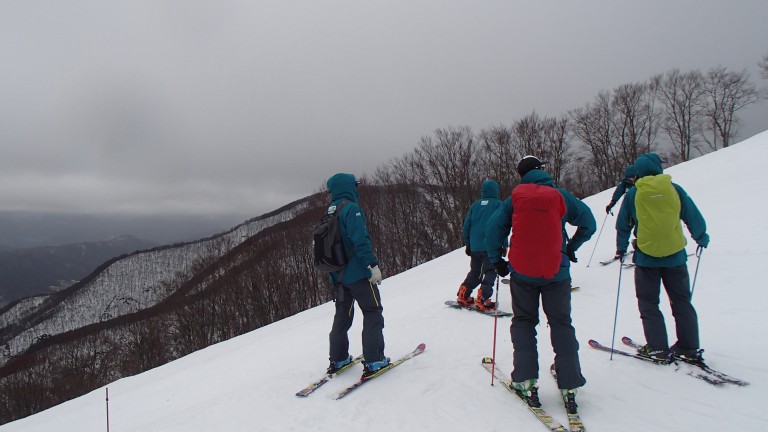 We were able to end the day without injury, and descend the mountain with the friendly and chatty lift members.
With the times, it seems they still have a bit more to go before they need to get serious with their lift surveillance.
I'll be counting on your hard work tomorrow!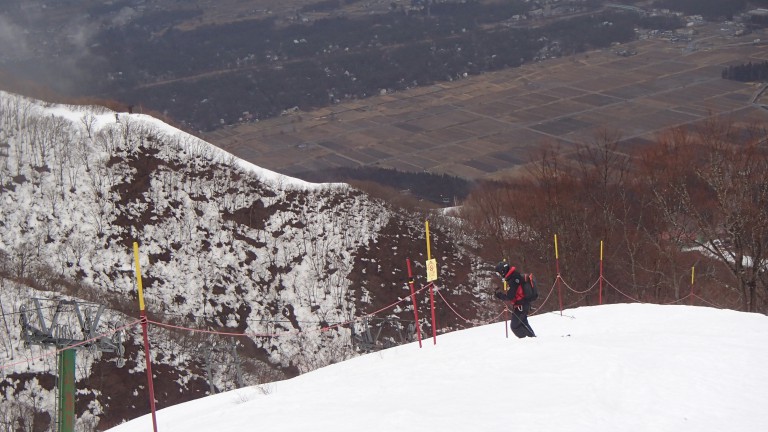 This is during the last course check.
We slowly descend the mountain while checking the safety of all our guests.
It is squad member Hiroshi Saba who treks the sides of the slopes to double check that everything is in order.
'It seems like his work is proceeding unusually smoothly' is what I thought as I looked at him from afar.
'Oh right! Saba had the day off yesterday, so he was able to train his ski proficiency on the mountains of Hakuba in yesterday's perfect weather!'
Is what I suddenly remembered.
'Uoh! So thats how he's able to work so efficiently and stylishly!'
Well unfortunately, my days off never end up with perfect weather, so I had to try my best to hold back my tears of jealousy.
Squad member TKO just threw the rock that he picked up beyond the net without even giving it a second look.
I gave him a look which expressed the word 'Unbelievable!' and he looked back at me with a look on his face that said 'Huh? What? Again with Matcha's death stare?'.
I wish for everyone's safety as a top priority tomorrow!