3/6 (Fri) The Day After the Tempest. A Winter's Atmosphere@Kuromet2020.03.07
Good afternoon, I am Kuromet, who likes to learn about history though manga.
With the strongest winds this season raging through yesterday and all of last night, Hakuba Goryu is once again peaceful.
The air this morning feels fresh, and the clouds in the sky drift slowly across the mountain range.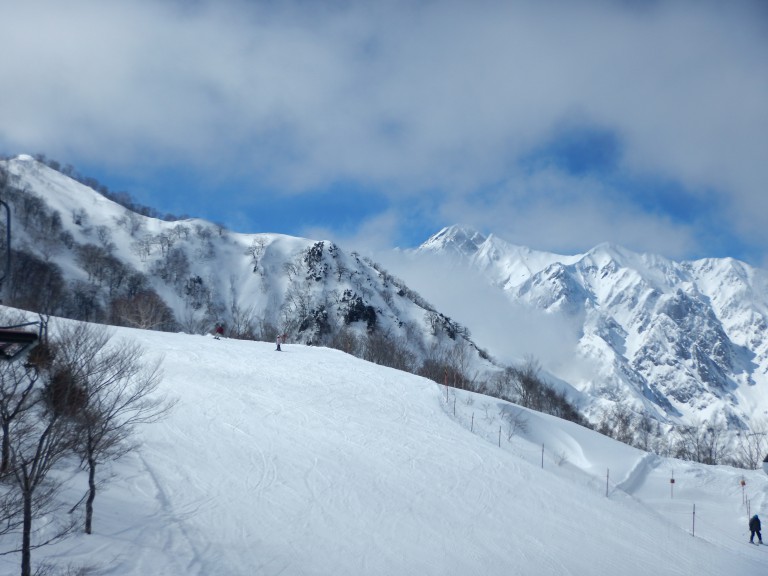 The areas with groomed snow are really easy to ski on,
so much so that it brings me back to when the season had reached its peak.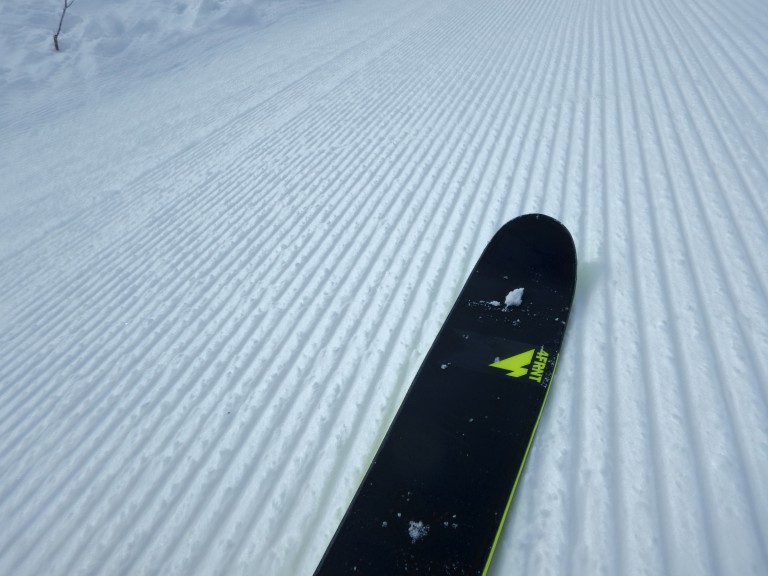 The ungroomed areas do look a bit weird.
The snow which had set before the winds blew it all over the place have created shapes in the slopes such as the photo below.
Its a separation between areas that have been completely stripped of snow and are icy, and areas where the snow accumulated leaving lumps of powdered snow.
There's no way you can let your guard down when passing through slopes like these, so we do ask you all to be careful.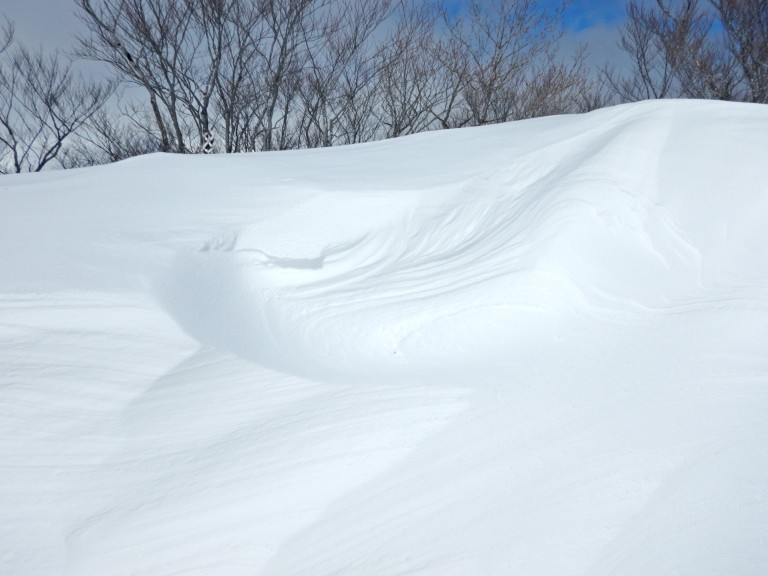 Though I say its tough, at first it certainly doesn't quite look so tough but…
when trying to slide down it, it ended up just being an icy slope with a thin layer of snow on top.
What I first thought was a soft slope, ended up sending me and my skis in unwanted directions.
I had to do all I could just to stay on track.
I reckon it was so lucky that we could ski on groomed snow that I was quietly thanking the Snow Grooming Squad throughout the day.
The locals of the Hakuba Village area don't remember ever experiencing a season with such a lack of snow.
That said, its always thanks to the snow falling just as the snow is about to melt away that the ski resorts of Hakuba can continue business.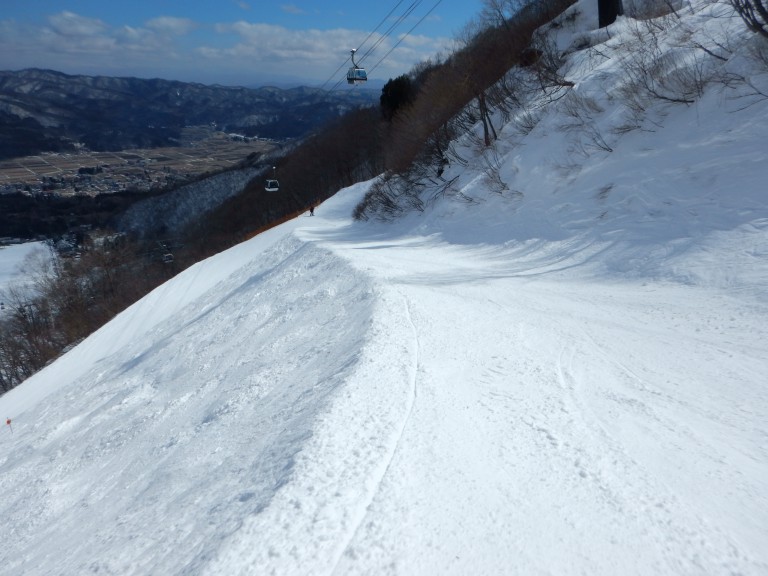 Even in the place where rocks sometimes come rolling down, none were found today.
Well, in one way you could call it a season which will go down in history.
Talking about history, I received this book from someone I happened to encounter today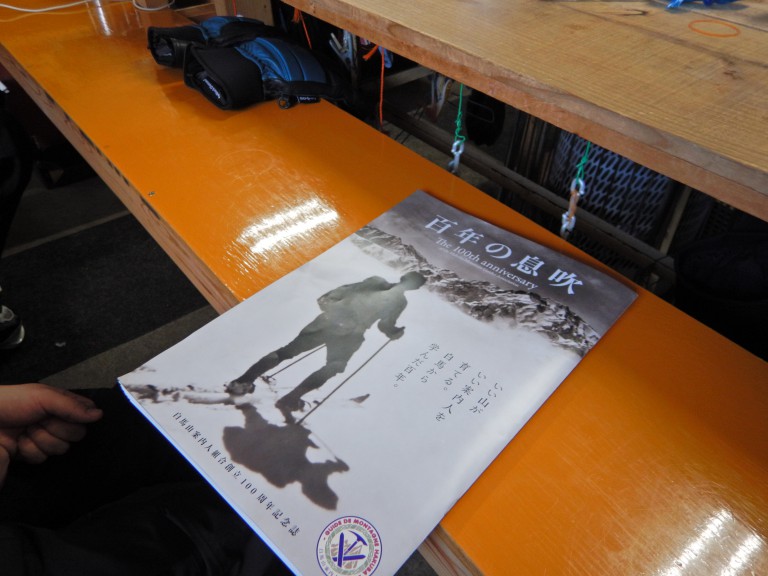 Apparently its the 100 year anniversary for the Mt.Hakuba Guide Association.
It seems like mountain climbing at Hakuba has finally surpassed a century's worth of history.
By the way, skiing at Hakuba Goryu has surpassed a history of 50 years.
It might seem like a long time, but compared to the history of the Earth and humankind, we still have a ways to go.
So there's no point in lamenting the times past.
"There are also records of seasons without much snowfall in history."
Is what we say as we gaze out upon the ever expansive mountain range.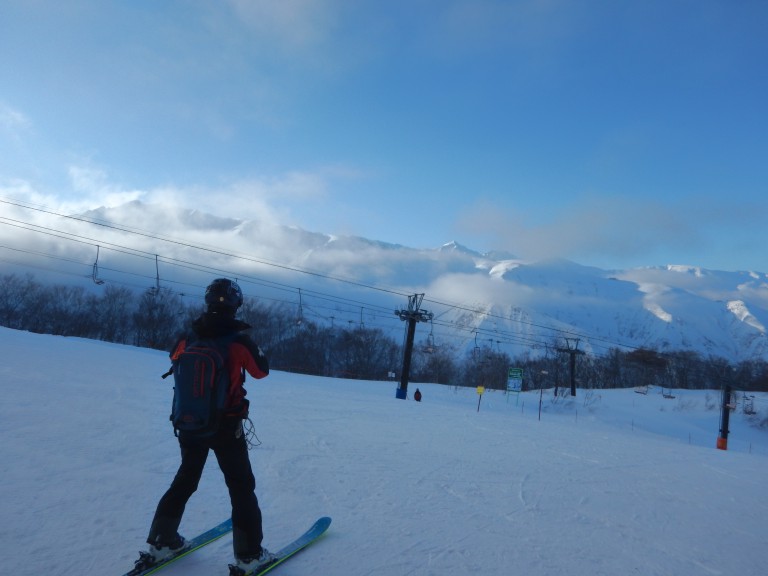 ("I'd much rather gaze upon such beautiful scenery next to a beautiful lady instead of a bunch of oldies…" is what a certain squad member regretfully said under his breath)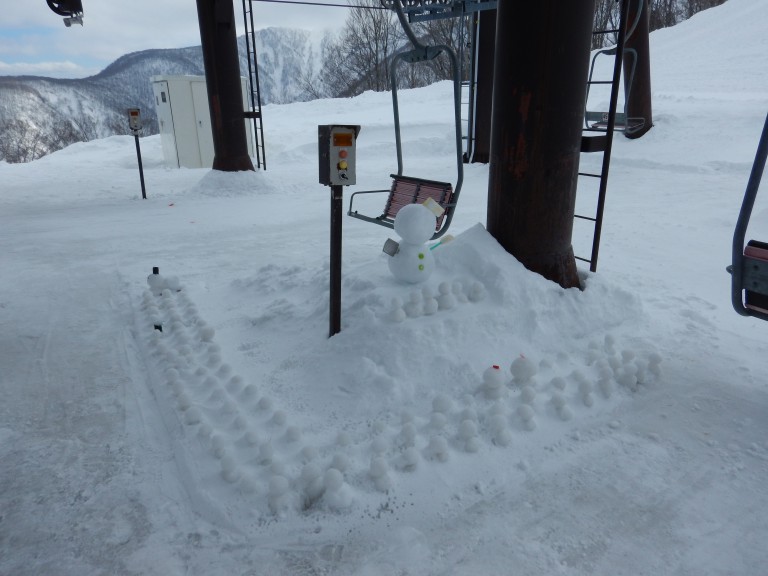 All things said, it would be best if tomorrow is a historic day filled with smiles.
At a certain lift, there is an attempt at 100 little snowmen, very much like the 100 monk statues around certain temples in Japan.
You can make a wish as you look at them!
Tomorrow's morning patrol seems like it will be taking place on icy slopes.
Please make sure to control your speed and be careful of your surroundings as always!