Especially for Foreigners2018.01.13
Hello everyone!
This happened on 11th of January and please read and understand for us and yourself.
Today, when I got back into the Patrol office, I had a call from the chair lifts. I went to see what was going on and there were 5 customers from Spain.
They went out of bounds.
Q: Didn't you see the rope?"
A: We did see it but there were tracks so we went past it.
Q: Do you know the rules of Hakuba?
A: No. It is our first-time visiting a ski resort in Japan. The Spanish travel agency didn't say anything about the rules.
I explained the rules and they understood but unfortunately, we had to confiscate their lift passes.
Please please please read our rules one more time to understand it is dangerous to go outside the course.
We do not feel happy confiscating lift passes.
These are the rules of Hakuba: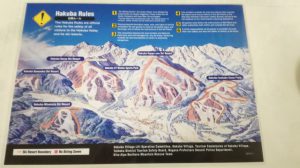 "People who come to Hakuba Area have to follow the HAKUBA RULES.
If you break our rules, unfortunately we have to confiscate your pass.
We cannot accept any excuses."
For the safe enjoyment of the ski resort, please keep the rules in mind.
When we manage the risk of avalanches, our tracks are on the other side of the rope.
If you have any foreigner friends, please share this blog so they can understand once more.
We hope you have a great day!