1/29 (Wed) Energy Drinks as a Last Resort?@枯木(Kanreki)2020.02.04
Hi everyone, how have you all been? It's Kanreki here.
Today's Goryu has continued to experience rain since yesterday. Yesterday, MatchaMatchaDonDon wrote yesterday that there would be around 10-15 cm of snow, but I am sad to announce that it ended up being rain. Its not like I'm trying to blame Matcha or anything; it is entirely the weather forecast's responsibility, so please do find it in your hearts to forgive him.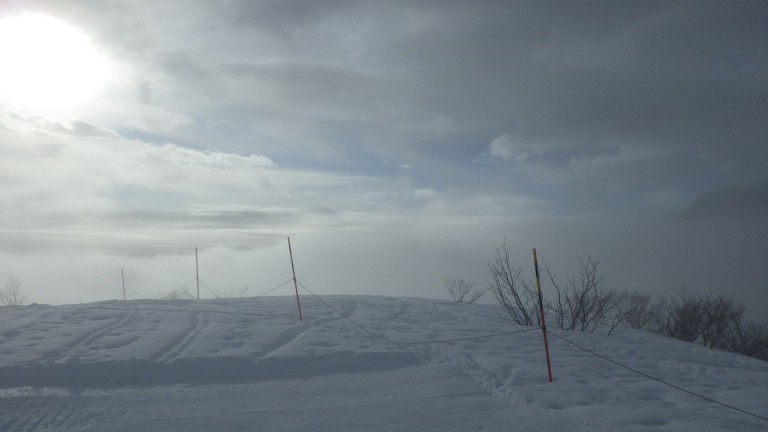 At around 9am, there was a spectacular view of the landscape, but it wasn't long before everything was covered in fog. So that everyone could experience the natural atmosphere of the mountains, there was initially no music playing around the lifts. But due to the heavy fog, we ended up playing music. The music isn't there just for the enjoyment of our visitors, but is also there to inform people of the location of the lifts within this heavy fog. It to help those who have lost their way, so we do ask for you understanding and patience when listening to the lift music.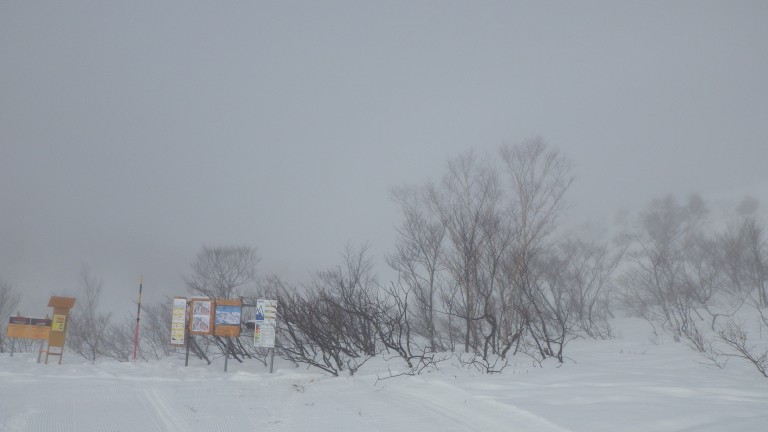 You can see the mountain hiking gates within this mysterious fog.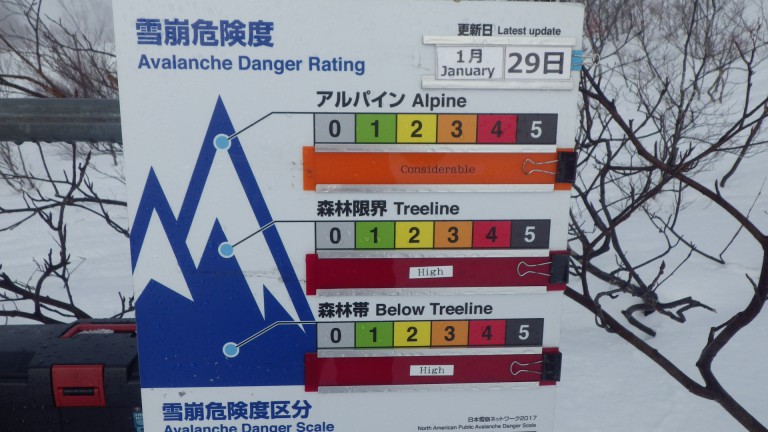 And if you look closely, you can see the avalanche danger ratings which are send from JAN (Japan Avalanche Network) and changed by us every morning.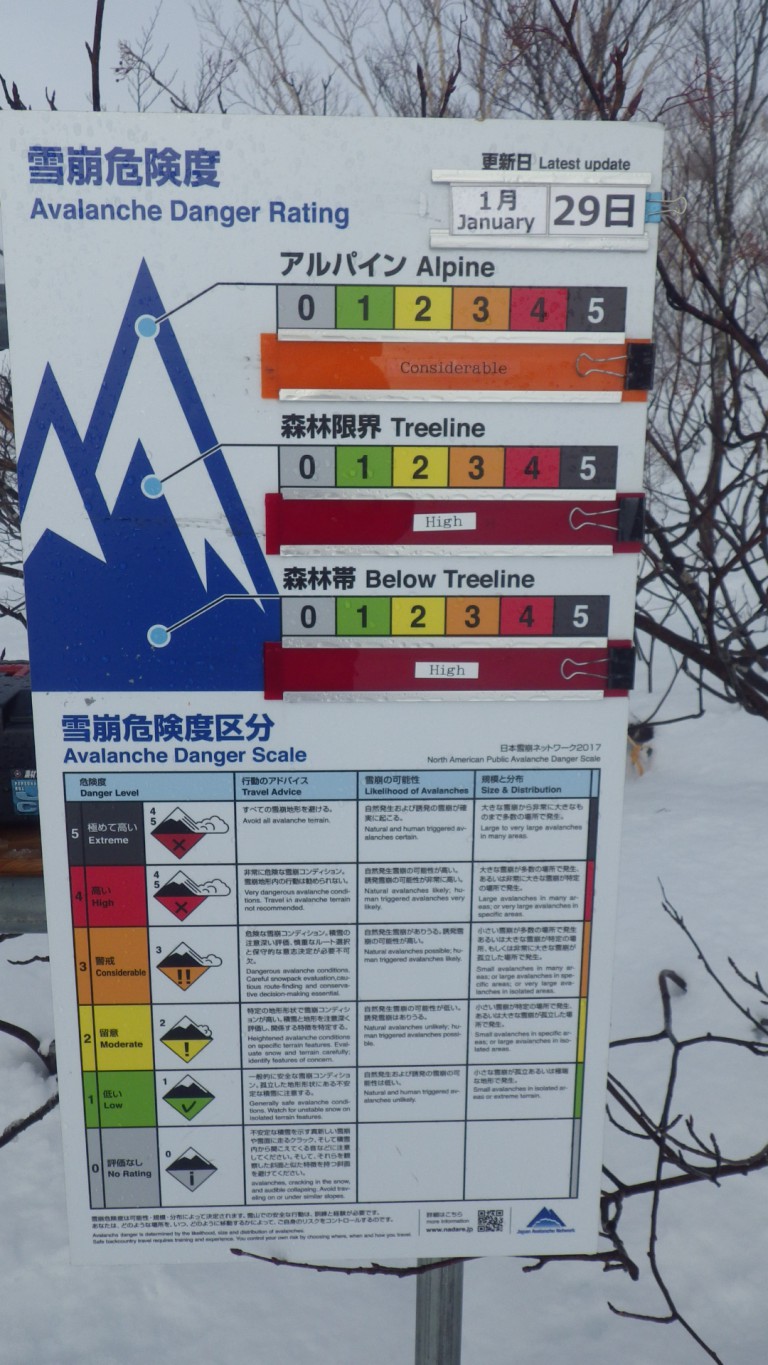 For today's route, the Alpine area has considerable danger, and the lower areas had a high danger warning. Generally around this time of year, the lower parts of the mountain don't have this high of a warning. (Everything is normally the same colour) This is just one example showing that this year's snowfall in unusual. The months will soon be changing, so hopefully we can escape from this routine of there being a complete lack of snow. On top of that, this year we haven't even been able to run any avalanche safety checks yet!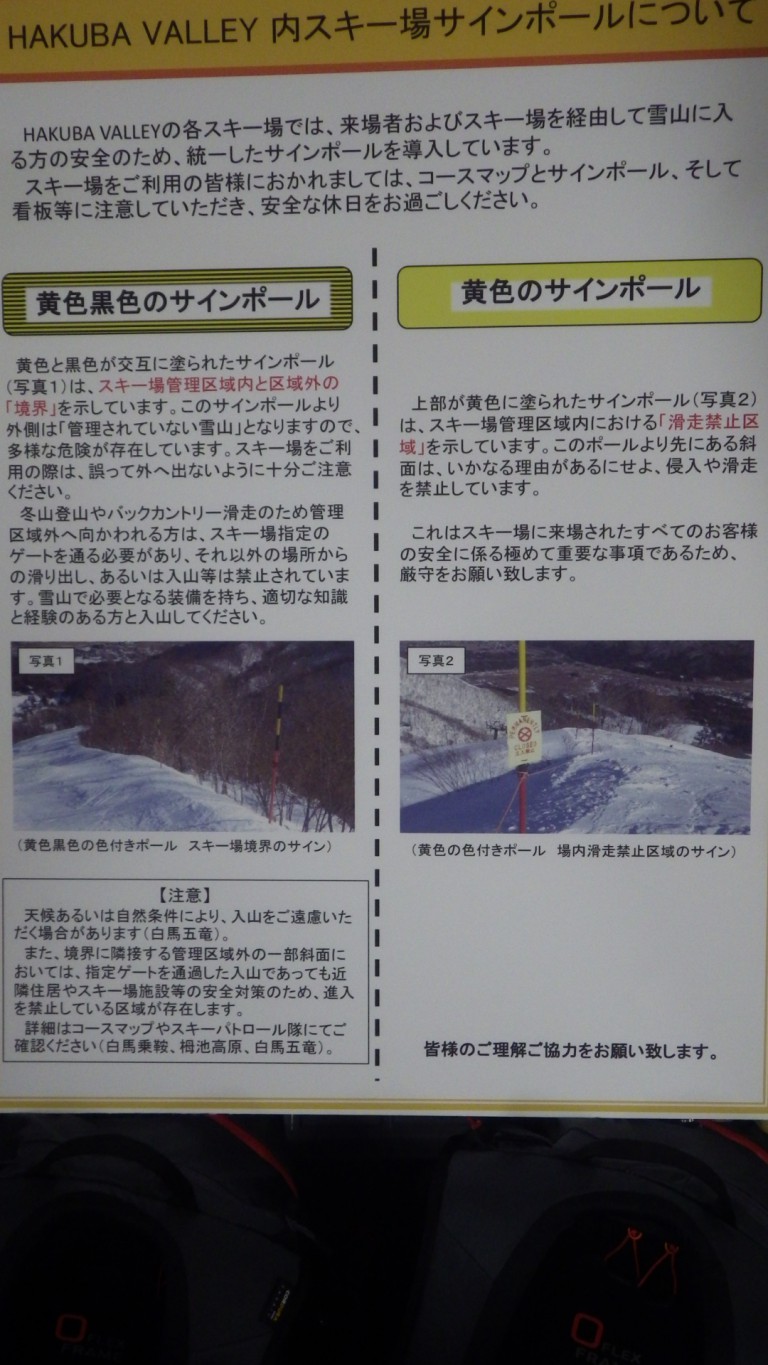 (The black and yellow poles (1) indicate the border of the ski courses, and the yellow poles (2) indicate what areas are prohibited)
From this year onward, sign poles are colour coordinated. The ungroomed and off piste borders are marked with black and yellow poles, prohibited areas are marked with yellow poles, and as always, there are the three types of red poles used in past years. We hope that everyone can come to understand the meanings behind the poles and continue to ski in a safe manner.
Its been a slow two months since the ski resort has opened, and poor Kanreki can't help but get a bit tired. (I'm hearing a voice coming from somewhere saying its kinda lame to get tired from something of this level but I wonder where its coming from…) I ended up mixing medication and energy drink to get through my patrol today. Every year I tell myself that this year is the last, but it just ends up getting rather tough. My last day may be just around the corner… (Its the final countdown~)
I live for the day, without regrets or fear.